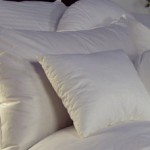 Attempting to home launder pillows of any kind can have some potential risks.
Pillows down or poly get extremely heavy when wet. When home washers go into extraction and are off balance it can cause damage to the machine.
Some home washers have an agitator that can cause the pillow to twist or bunch resulting in split seams or a burst pillow.
Most home washers simply don't have the capacity to properly wash and rinse away all the soils and dust. Home dryers don't thoroughly dry poly, feathers or down. Some larger down pillows can take up to 3 hours to completely dry.
After home laundering stains are often still visible on the outer cover.
How often should my pillow be cleaned?
If a zip up pillow protector is used to cover the pillow, and the pillow case is changed regularly, once per year professional cleaning of the pillow is recommended.
How does Best Care clean pillows?
Since professional cleaning sanitizes, deodorizes and fluffs up the pillow and a brand new cover is used, the customer essentially gets a brand new pillow for a fraction of the cost of buying new.
Depending on your pillow's filling we have different methods for cleaning. Poly fill, foam and down are all treated using the safest most effective method of sanitizing and deodorizing so your pillow is returned to you clean and free of allergens.
We have a specially designed pillow-vac machine for down or feather pillows. Inside the machine pillows are exposed to ozone emitting germicidal lights to kill dust mites, sanitize and deodorize the filling. While ozone is very powerful, it has a very short life-cycle. Within minutes after cleaning, the ozone dissipates leaving nothing behind.
For best results with a poly fill or foam pillow a water based method (wet cleaning) is used. Our commercial washer and dryers have a greater capacity and make sure pillows are rinsed thoroughly and dried completely.
Your clean filling is put inside a new cover (ticking) which is 100% cotton, high thread count, feather and down proof. We can even add crushed down/poly fill to increase the volume of your pillow, or make for example two standards into one queen size. High quality down or poly filling can last over 10 years when cleaned and maintained properly.
A freshly cleaned pillow can help you enjoy a more restful sleep!