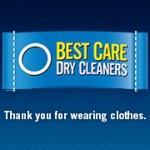 Recently a few customers and friends who make use of our Dry Cleaning pick-up/delivery service mentioned to me how great it was that they could email their Dry Cleaner. They realize that time is a valuable commodity you never get back. Sitting in their office at work or at home in their pj's, they appreciated the convenience of emailing us to; request a pick-up or delivery, ask for a button to be sewn onto their shirt, mention a stain they forgot about, ask that their shirts be folded for an upcoming trip and so much more.
As our lives have become more focused on technology, we all look for ways to use it to save time; online banking, food delivery, gift purchases…why not Dry Cleaning & Laundry as well? If you are someone who has clothes strewn about on the bedroom floor or a bag of clothes left in your trunk for weeks, we can help. We provide you with a free yellow bag to put your items into, attach an identification tag to keep it organized, program your customer file with any special instructions and all you need to do is…Email.
Our driver will pick up your bag, we will provide you with quality #GarmentCare and your items will be delivered back freshly cleaned and pressed!
Why not email us today to save time?
Email: [email protected]
Of course you can still phone: 204-582-3083
Or drop by our locations: 998 Main St / 1290 Kenaston Blvd / 5 Killarney Ave
Thank you for wearing clothes!
#BestCare #GarmentCare #DryClean #WetClean #Laundry