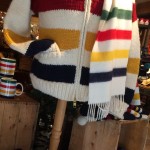 Fall – Time for Sweaters
As sweater styles have changed, so have the fibres of this wardrobe staple. Sweaters are made from a variety of fibres ranging from cotton and wool to silk, rayon and acrylic. Natural fibres, such as angora, mohair, cashmere are especially popular. To add to the variety, many sweaters contain special decorative trims such as suede, leather, snakeskin, fur, sequins, and beads. Caring for these delicate knits requires special attention.
Purchasing Tips
Check to see if the sweater you like will withstand your lifestyle. If you're active you may want a harder, tighter yarn but one that's breathable. Soft loose yarns tend to stretch out easily. Check the seams of knits for unravelling and fraying. If the sweater has trim, check the care label to see if it's serviceable and ask the retailer about their return policy. Many times the fabric will hold up to regular wear but often times trim is the weakest part.
Preservation Tips
Follow care label instructions closely to prevent shrinkage, stretching or pilling. Many sweaters are hand wash only. It's usually best to lay them flat to dry. Some sweaters are gentle-cycle washable but others require dry cleaning. Avoid using alkaline based detergents on wool and other animal fibres. If you have any doubts about care procedure, trust our dry cleaning professionals.
Cleaning Care Tips
Spills that are treated immediately and professionally removed will prevent stains from developing later. Prior to any cleaning method, check knits for loose yarns and secure them to prevent further unravelling in process. If your sweater has stretched out over time from hanging improperly or regular wear, ask us to steam and block it to restore size and shape.
Storage Tips
Place folded sweaters in a well ventilated closet or folded in drawers. It's best not to hang loose knits from shoulders; the weight can cause them to stretch. If hanging, fold sweater over a padded hanger, tube hanger or line hanger with tissue paper. Remember any delicate sweaters that require special handling are best serviced by the professionals at Best Care.
Trust our Experience
Different fabrics can present different challenges in cleaning sweaters. Trust our experience cleaning a wide range of styles and fibres. At Best Care we have a variety of processes that can be used and we will select the cleaning method safest for your sweater.