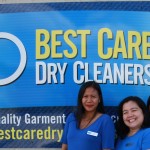 Recently Best Care was one of the Canadian Dry Cleaners featured in Fabricare Canada Magazine Article "Show Us Your Stuff"
The ability to come into work each day with a fresh perspective to focus on their customers, staff and equipment and how they can support their team of 18 to achieve success, is what makes Lisa Hiebert most proud. "Without customers, we wouldn't have a business. We value them and we show it by giving them what they need; knowledgeable customer service reps who greet them by name, same-day service, pick-up and delivery options and above all, quality professional care of their garments," says Hiebert, who co-owns the store with her husband Kevin.
Hiebert also invests in her staff. "We realize that it's management's responsibility to invest in staff by providing them with opportunities for gaining knowledge and experience," says Hiebert. "Production staff is cross-trained on all finishing equipment, our dry cleaner/spotter has completed DLI's Advanced Dry Cleaning Course and our CSR Supervisor is engaged in Workplace Leadership Training."
At Best Care we are proud of continuously moving forward, working together as a team, using the best equipment we can find and making our customers happy.
http://content.yudu.com/Library/A3wy53/2015SeptemberOctober/resources/index.htm?referrerUrl=http%3A%2F%2Fwww.fabricarecanada.com%2FPage3.htm