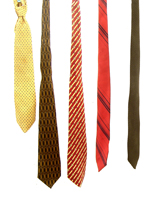 Even though many workplaces have casual dress codes, neckties for men are still a big part of their wardrobe. Ties can be a powerful or fun fashion statement, but occasionally pose a cleaning problem. The fabric used for ties is cut diagonally to the weave, or "on the bias," so it makes a neat knot when worn around the neck.
Unfortunately, this type of cut is easily distorted or stretched, causing puckering and fullness. In many instances, sizing or finishes are used during manufacturing to stabilize fabrics. If the finish is removed in cleaning, the fabric will lose its shape and stability. In the case of ties, this makes it difficult to return the necktie to a wearable condition.
Sometimes a tie doubles as a bib and collects a variety of stains. Most tie stains require water to remove them. In many cases, the dyes are also affected by water, leading to problems when it comes time to tackle a tough stain. Attempts to remove the stains will likely disturb the dyes.
The several layers used to make neckties prevent quick drying of any particular area. The typical solution is to take the tie apart to work on only one layer at a time, but this can also cause distortions because of the bias cut.
Please, let the experts at Best Care take care of your ties so you can take care of your business.