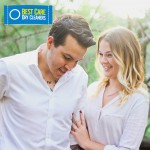 How do you clean linen?
Linen is usually washable, but it can shrink if it has not been pre-shrunk by the manufacturer. Check the care label before laundering.
If machine washing linens, use warm water and a short, gentle cycle.
Separate colours before washing. Many linen dyes may bleed.
Dry linen garments on a clothing rack or hanger.
When pressing, use a high temperature with a spray mist or damp cloth.
If your linens have been treated with a wrinkle-resistant finish, use a lower setting on your iron.
Clean all pieces of your linen outfits at the same time to avoid colour discrepancies.
Linen is a comfortable fabric to wear due to its breathability and natural fibres. It also wrinkles very easily – this natural wrinkle must be embraced, it will not stay perfectly pressed during wear like some man-made fibers.
We professionally care for linens and have the specialized equipment to wet clean or dry clean based on the needs of your specific garments. At Best Care our mission is to help keep you looking your best all summer long.
#BestCare #Garmentcare #Dryclean #Wetclean #Linen #Summer