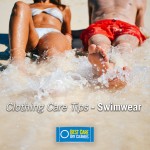 During Wear – Don't sit on rough surfaces while wearing a swimsuit. The concrete beside the pool or wood from the lounge chairs may snag the swimsuit material. Always lay down a towel before you sit. Don't wear your favourite suit in the hot tub or jacuzzi. The hot water combined with chlorine will cause fading and shorten it's lifespan.
Wash your swimsuit after each and every wear – even if you don't go in the water. Sweat, sunscreen, sun tan lotion, sand, salt and chlorine contain ingredients that can be damaging to fabric and can lead to eventual breakdown of the material. Mineral-based lotions and oils can cause yellowing over time if swimsuits are not washed thoroughly. Chlorine is another reason to wash as soon as possible. It is harsher on swimwear than fresh and salt water and can lead to fading of bright colours.
Don't put your swimsuit in the washing machine. For best results, wash your swimsuit by hand and use a delicate detergent or white vinegar. The agitation and extraction in some home machines can cause bunching or stretch out your suit out of shape. Fill your sink with lukewarm water and add one capful of mild detergent or white vinegar. Let the swimsuit soak in the solution for about 10 minutes, and then rinse with cool water.
Never put swimsuits in the dryer – To dry, gently roll your suit in a clean dry towel to remove excess water. Then lay flat to completely dry. Never put swimsuits in the dryer, the heat will cause damage to the delicate spandex and elastic fibers.
Happy Swimming, we hope you enjoy the Summer!
#Garmentcare #Winnipeg #Dryclean #Wetclean