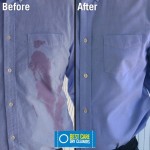 Recently we received an assignment from our Methods for Management business group. The members of this group are Dry Cleaners who want to gain knowledge and experience from their peers in the industry. Our assignment was to 'secret shop' our competitors and present our findings at the next meeting. This sounded like really fun, informative homework to me, so I took things one step further. I decided to create a red wine challenge and include Best Care in the Secret Shopper Program. In the interest of professionalism and respect for our competitors in Winnipeg, I will not report all the secret shopper's findings, but only on what I learned about how Best Care measures up.
First our shopper purchased a blue, Joe brand, 100% cotton shirt. It was stained with a tablespoon of red wine (a little wine goes a long way!) Then two buttons were removed, one small one under the collar and the front fourth one from the top. Once the wine had dried, our model put on the shirt and we took 'before' photos.
The next day our secret shopper anonymously took the shirt into Best Care for cleaning. She reported that customer service was friendly and knowledgeable. The CSR explained that red wine wouldn't come out in a regular laundry process and that we would perform stain removal. She explained there could be an extra charge for the time spent working on the stain. The shirt was promised for 3 day service. Three days later our Secret Shopper received an email notification that her order was ready.
At pick-up time our Secret Shopper was pleased with the results. The CSR smiled and greeted her upon entering the store. She handed over her slip and the CSR pulled it up on the computer immediately. The conveyor started turning and the shirt was hung in front of the customer. Our secret shopper inspected the item and found the red wine was removed, the two missing buttons were replaced (at no charge) and the shirt was pressed well. Our secret shopper had an additional comment about the collar button that was replaced, it wasn't an exact match to the other one, but she understood the shirt had no attached spare button. She felt the price was more than fair for saving the shirt, the regular shirt price plus a $5 stain removal charge. She noted that only GST/PST were added, no additional environmental fee or surcharge was added.
As passionate garment care professionals we were pleased to find out how we measured up. We plan to continue this exercise regularly to be certain our loyal customers receive the quality, service and innovation they look for in a dry cleaner.
If you have a difficult stain gently blot, do not rub, and bring it to one of our locations as soon as possible before the stain is allowed to set.
Thank you for wearing clothes!