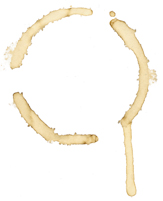 Some sneaky stains can be a real head scratcher for us if we are working with incomplete information. You may not realize it, but some stains can be made up of compound elements beyond just the obvious presumed cause of the problem.
Coffee stains, for example, often contain milk or other additives, making the stain more difficult to remove since the coffee is a tannin stain and the milk leaves a protein-based stain.
Both the coffee and the milk in the coffee are water-based stains, but protein stains require more work to get out. Such stains will have to be treated individually, even though the actual staining occurred at the same time.
If you drop off an item with a coffee stain, please inform the customer service representative how you take your coffee (i.e., with cream and sugar, milk and sugar, black, etc.).