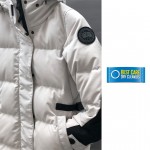 Did you know that Best Care is the only Dry Cleaners in Manitoba referred directly by Canada Goose? www.canadagoose.com/find-a-dry-cleaner
What does that mean? It means that we were visited by the Manager of Warranty and Repair for Canada Goose. She toured our facility and found we were using eco-friendly dry cleaning methods that were safe, gentle and effective. We were then given test samples to clean. They provided a variety of fabrics, styles, colours, and trim combinations to determine safest cleaning methods – including fur hood trims and leather trimmed parkas. Our test samples, including all trims were evaluated and approved by Canada Goose. Since being added to the Dry Cleaner referral program in 2018, we have cleaned hundreds of Canada Goose jackets, coats and parkas.
How can you Best Care for your Canada Goose while keeping your warranty intact?
Make sure you store your jacket in the cleanest condition possible. Any dirt, sweat and oil will degrade fabrics over time. Refer to the product care label on your garment for specific care instructions.
When your down-filled parka requires cleaning, it is important that you take it to a reputable dry cleaner that has been approved by Canada Goose. Do not machine wash it at home. Machine-washing your parka will void the warranty. If your parka has a removable fur option, remove the fur trim before dry cleaning. Inspect the fur to determine if it needs cleaning. If you have any visible stains on your parka, point them out when you drop it off for cleaning.
Once your parka is clean, its important to store it properly. Let the parka hang freely on a wide hanger. For best results, store it in a dark, moisture-free environment, using a breathable garment bag for protection from dust and dirt. Avoid compressing your Canada Goose jacket into crammed spaces.
At Best Care we have the knowledge and experience to clean and sanitize your Canada Goose while keeping your warranty intact – should you ever need to use it. Be sure to clean your parkas regularly throughout fall and winter and especially before storing away for the season.
Stay warm and look great in your freshly cleaned Canada Goose!