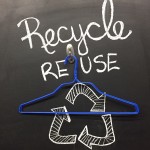 Have you noticed our new Hangers? We recently switched over our shirt hangers to a new, blue, sturdy, plastic-coated wire. We wanted to give these new hangers a try because they are Canadian made and 100% re-usable and recyclable.
Just as we have been doing for years with our other wire hangers, we accept used hangers. We encourage you to bring them back using one of our convenient hanger boxes. These boxes are supplied free of charge at both locations.
When you return your hangers to us, we sort them, clean them and re-use any that are in a like-new condition. Any hangers broken, rusted or damaged get boxed up and taken to Urban Mine for recycling.
We want our customers to know that we care about the environment as much as we care about cleaning their garments. Please join us in our efforts to reduce hangers entering landfills. Your closet and the environment will Thank You!
#bestcare #garmentcare #dryclean #wetclean #laundry