Raise your hand if you've been to a gala event in Winnipeg. Good. Now, keep your hand raised if at one of the events you've attended you've had an unfortunate incident involving food or a drink. Yep, that's what we thought – several hands are still in the air.
It's the unfortunate nature of Winnipeg's gala events – with popularity comes a lot of bodies moving in a relatively confined space; and when those bodies mix with unsteady glasses or  a tray full of food, you're bound to make a mess.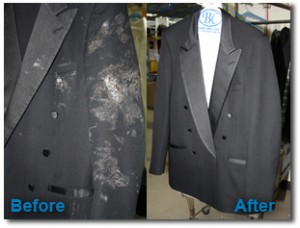 Such was the case for one of our valued clients. At a recent gala, our friend had an unfortunate meeting with a bowl of mushroom soup. Not just a couple of specs on the lapel but a full spill all over his expensive tuxedo.
Naturally, with such an expensive garment this individual wanted to clean, not replace; and Best Care was up to the task.
With a combination stain like mushroom soup, there isn't one care process that would remove the entire substance. We started with stain removal to take care of the soup that dried onto the surface, we followed that with a professional dry cleaning process to remove any butter or oil. We then went into some more extensive stain removal procedures to remove the milk proteins. The final step was a delicate rinse to ensure all traces of soup and stain removal agents were completely flushed out. The tuxedo was expertly finished with steam, and ready for the next gala!
When our customer came back to pick up his tux, he was blown away. Being a regular Best Care customer, he knew of our service, but never in his wildest dreams did he expect his tuxedo to look like it did the day he purchased it.
We're happy that our customer's tuxedo was saved and look forward to seeing him at one of the many upcoming galas here in Winnipeg, preferably one where there's an option for salad instead of soup.
And as a word of advice, if you encounter a spill on your tuxedo, never rub, which can chafe and discolour fabric. Blot the stain gently with a dry cloth to pick up the excess. Allow the stain to air dry and drop off your garment at Best Care as soon as possible. Let our customer service representatives know what the stain is, and if you've tried anything at home. Remember stain removal is a science – we have better success if the stain is fresh & untouched.