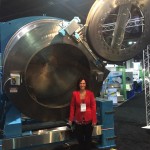 Every two years experts in our industry gather for the big Clean Show. This year Atlanta hosted us in the GWCC, a giant venue that housed the latest and greatest in Dry Cleaning, Wet Cleaning, Laundry and Pressing technology. Not to mention early morning learning sessions and a chance to network with our peers from around the world.
On the top of our list this year was new shirt pressing equipment, POS software and garment bags. After two long days of walking the show floor and doing some research, we are very pleased with the results! Sankosha "impressed" upon us their collar cuff press and shirt unit in action! Check out the video…Shirt Press
We spent the better part of a day at SPOT, a software supplier and innovator of the dry cleaning industry. We were excited to learn about some convenient features we could potentially offer our customers like text/email reminders when cleaning is ready, CRM and Production Trac.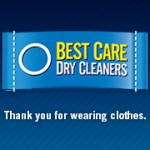 Since updating our logo this year, we were checking out new garment bags for our retail and pick-up and delivery customers: http://www.bestcaredrycleaners.com/register-for-delivery-service We hear from our loyal customers that they love the convenience of filling up the yellow bag, emailing for pick up, and having their items delivered a couple days later ready to wear!
The highlight of the Clean Show was definitely the people, reconnecting with friends in the industry from the US to Japan. There is great value in learning from others who have experienced the highs and lows of business and have come through stronger. Taking time away from work is never easy for us, but the education we get at the Clean Show gets directly passed on to our customers. Thank you for your continued support, there are great improvements to come at Best Care!