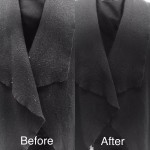 Sweater Pilling got you Down?
Those pesky fuzz balls known as pills can form on garments of any material and price point, from a high-end cashmere sweater to a less expensive acrylic blend. Pilling tends to get worse with frequent wear and always seems to occur on your favorite cashmere sweater.
I recently spoke with a customer about caring for wool and cashmere sweaters. She was concerned at how little she had worn her sweaters before they started to show pilling. She had invested in very expensive garments and felt they should withstand regular wear.
I explained to her that pills form when yarn fibers in a garment become loose, break or when ends are exposed and tangle together. Sweaters often pill because of their visible yarn, but nearly any knit or woven garment has the potential to show those unsightly fuzz balls. When examining her sweaters, our customer also noticed pilling was more common under the arms and on longer sweaters around the hip area and pockets. We discussed how areas of friction accelerate pilling, for example people who wear shoulder bags notice pilling along the shoulders and from seat belt use across the chest.
Sometimes the material used may provide hints as to whether it will pill. With natural fibres like cashmere the length of fibres are particularly important. Longer fibres can be wound tighter making loose ends less likely. With today's manufacturers trying to be price competitive many choose shorter less expensive fibres.
With temperatures dropping in Winnipeg and sweaters being the perfect thing to keep you warm, what can you do to prevent pilling? One option is to wear your favourite garment sparingly—because the more a garment is worn, the more likely it is to pill. Another option is to have it cleaned, blocked and de-pilled by your trusted professional dry cleaner. What you shouldn't do is pull off the little balls by hand, you risk yanking the yarn it is attached to and making it worse. At Best Care we use a variety of safe, eco-friendly, effective methods to clean, block and restore knits of all types. Why not drop by one of our locations with your favourite sweater today and let us care for what you wear.