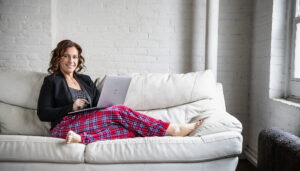 What will you be wearing when you emerge from your Covid-Cocoon? Many of you have grown too fond of your sweat-pant life or no-pant life. Forgotten what it's like to suit up and get down to business. Well, you are sanitized and masked up, maybe even got your haircut! But – what are you wearing? Did you know clothing stores have re-opened in Winnipeg? Yay local business! Fingers crossed, in a few weeks we will even be dining out and clinking glasses over wine! Will you embrace your inner butterfly as you start to show yourself to the world again? Why not head back to your closet right now and say "Hey, I've missed you! Let's make something beautiful together!"
In case you've forgotten that feeling of putting on an outfit that makes you feel like a million bucks…let me remind you! Freshly pressed fabric that isn't fuzzy inside, a striking colour that enhances your skin tone, shoes you haven't put on in a year, a beautiful pocket square or patterned scarf to finish the look. Remember what it's like to button up your crisp dress shirt instead of just pulling a t-shirt over your head? Beautiful cuff links showing just below your suit jacket sleeve? Oh, how I miss seeing downtown a buzz with suits and ties, dresses, jackets, wool coats, people moving with purpose, looking good, feeling amazing!
Why not try a little transformation this week? Visit your closet, pull out something that elicits a great memory of the last time you wore it. Was it a first date, your pre-Covid Birthday, your daughter's graduation? Those clothes in your closet are more than just fabric, thread and zippers. They are your personal brand, how you show up to the world. Clothes are with you as you create memories. For me personally, meeting someone for the first time – I notice first their eyes, then their smile and finally what they are wearing. Until the day you fully materialize and leave your Cocoon behind, hopefully soon, why not be the best dressed on your next video call?