Best Care Dry Cleaners is very proud to recognize Jaswinder Kaur Gill (Jessie) for completing the advanced Dry Cleaning course at DLI (Dry Cleaning & Laundry Institute.) She is an amazing member of our team who has been with us for more than eight years. She has shown a keen interest in advancing at Best Care and when we offered her this opportunity, she jumped at the chance. She recently returned back from DLI in Laurel, Maryland full of energy and knowledge, ready to apply her added expertise to each garment she handles. She has gained a wealth of skills above her years of apprenticeship on the job. Thank you Jessie for taking time away from your family (six children) to do this for yourself and for Best Care!
Recent DLI graduates
from DLI
Thirty one students traveled from all over the world to study at DLI's School of Drycleaning Technology in July and August. Students traveled from as far as Israel, Nigeria, Canada, and several of the United States to learn everything about running a drycleaning business from fibers and fabrics to stain removal, cleaning and finishing to management practices and plant design. The next DLI Resident Course will be held October 13-31. The Introduction to Drycleaning portion of the course runs October 13-17 and the Advanced Drycleaning Course runs October 20-31. Scholarships are available, contact DLI for more information at 800-638-2627.
Fifteen Graduate Latest Five-Day Introduction to Drycleaning Class
July 14–18, 2014, 361st Class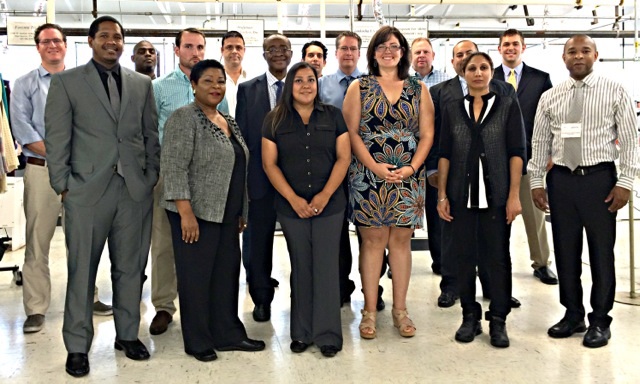 Front Row (left to right): Jeff Vines, Crest Cleaners, Mclean, VA, Rose Okwudi, Waterfalls Perfect Touch, Abuja, Nigeria, Jessica Caughlin, Modern Cleaners, Mt Vernon, WA, Ashley Ledesma, Capitol Cleaners, Austin, TX, Jaswindur (Jessie) Gill, Best Care Cleaners, Winnipeg, Manitoba, Brian Johnson, DLI Director of Analysis & Education
Back Row (l-r): Sam Nadler, Washio Inc., Santa Monica, CA, Gary Lofton, Young's Cleaners, Erie, PA, Brent Hampson, Dryclean and Shirt Salon, Cumberland, MD, Eyal Inbal, Easy Wash, Kiryat Ono, Israel, Emmanuel Okwudi Waterfalls Perfect Touch, Abuja, Nigeria, Juan Dulanto, Washio, Inc., Santa Monica, CA, Glenn Polley, Wrights Cleaners, Barrie ON, Canada, Randall Whitaker, Vidalia Cleaners, Vidalia, GA, Jose Maury, Elite Cleaners, Monroe, NC, Richard Long, Long Cleaners, Rocky Hill, SC.
Sixteen Graduate Latest Ten Day Advanced Drycleaning Class
July 21 – August 1, 2014, 361st Class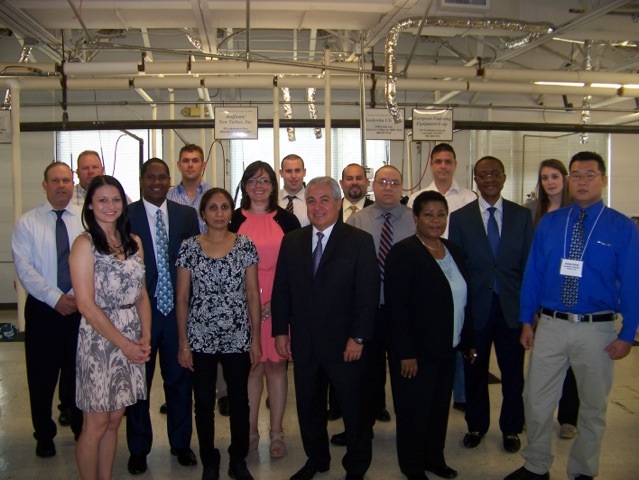 Front row (left to right): Tiffany Biller, Kimmel Corporation, Upper Sandusky, OH; Jaswinder Gill, Best Care Cleaners, Winnipeg, Manitoba; Jose Torres, Baumgart Family Cleaners, Flower Mound, TX; Rose Okwudi, Waterfalls Perfect Touch, Utako, Abuja FCT Nigeria; Sung Hong, Paradise Cleaners, Memphis, TN
Middle row (l-r): Greg Hall, Potrero Depot Cleaners, Villa Park, CA; Jeff Vines, Crest Cleaners, Mclean, VA; ~Ashley Ledesma, Capitol Cleaners, Austin, TX; Joseph Holt, White Swan Cleaners, Memphis, TN; Emmanuel Okwudi, Waterfalls Perfect Touch, Utako, Abuja FCT Nigeria
Back row (l-r): Randall Whitaker, Vidalia Cleaners, Vidalia, GA; Richard Long, Long Cleaners, Rock Hill, SC; Chris Maltby, Holmes & Maltby Cleaners, Amherist, Nova Scotia, Canada; Jose Maury, Elite Cleaners, Monroe, NC; Eyal Inbal, Easy Wash, Kiryat Ono Israel; Monika Manter, Balfurd, State College, PA more